Your Name: Bill Mcoy

Reason appealing:
I used to play on the SCP RP server that is since gone and while I was there I spent 100.74 USD on a few different packages.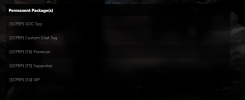 I now wanted to be able to transfer this to Halo RP due to SCP RP no longer existing so I contacted multiple people and was told that I cannot do that due to a time limit on donation transfers I would not be able to do that even though in the terms and service attached to the donation page it does not state that (highlighted the parts Im talking about).

It is a legal requirement that both partys know about TOS for them to apply and there is no where I can find that mentions there being a time limit to claim donations after a server being discontinued and I looked on both the forum and the TOS page attached to the donation website.
Last edited: