Too Many Years
Staff Blacklisted
Years of Service
Networking Blacklisted
Joined

Feb 11, 2017
Messages

1,477
Points

148
Age

23
Name: Deius Epidiscus

Age: Thirty-eight
Height: 7' 5
Race: Turian
Voice Sample:
Picture: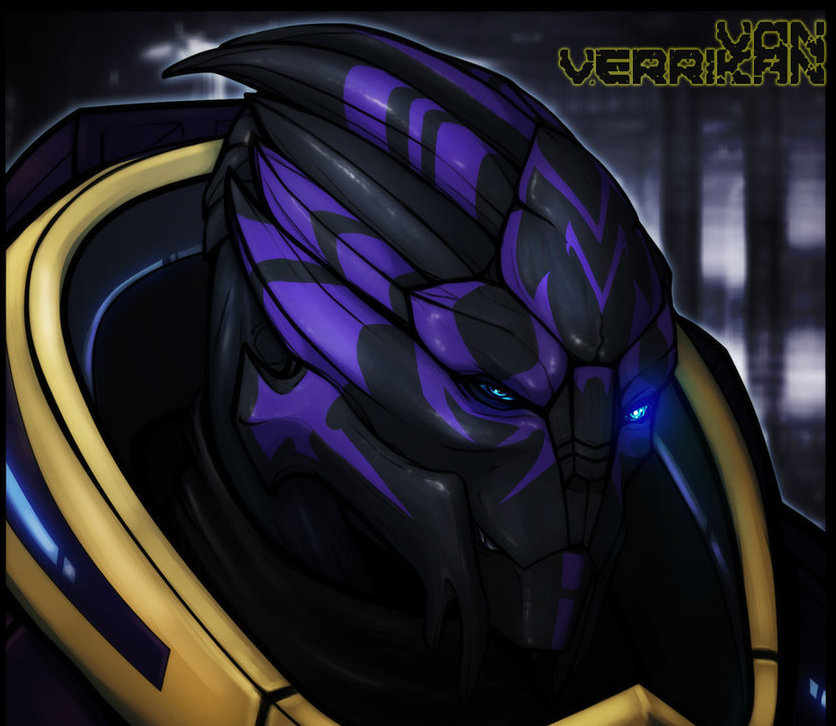 Gear and Biotics:

Uncommon for Turians: Element-Zero Biotics, trained when in Cabals.
Biotic Focus ³ (Biotic)
Focus your biotic energy and atavistic muscle structure to decrease damage taken and to increase melee damage and movement speed for a short time.
Poison Strike ² (Biotic)
Slash through an enemy line while encased in this biotic barrier causing instant biotic damage and applying a poison effect that does damage over time to every hit enemy.
Venom Gauntlets ¹ (Equipment)
Boost health, shields, melee damage, and durability, applied as poison damage over five seconds.
Background:
[Birth, lies within the river.]

Deius Epidiscus was born 2149, in a known-fully planet for it's history and wars on the planet named Digeris, the site of the bloodiest battle in turian history during the Krogan Rebellions. The only sounds he would ever be familiar with is the chants and reminders of Dhal's navy, as his father hid him from the other turian's eyes. His father Camrius Epidiscus is the only guardian he had known to truly take care of him, wistful of his mother Gramia Epidiscus who had he last known was in the Cabals of Palaven, she had painted the Deius's face with purple markings across his facial structure. That his what he hadn't known for a long time due to his father lying to him all along, saying she had been dead since Deius's birth, the sorrowful young turian would now be faced with account of not having a mother to take care of him in hard times. Although, he had his father who was a expeditionist when he wasn't at work, he would take him places through ships of a former pilot Tevius Helrius to some new places. Locations such as Omega, Citadel, the prison planet of Maitrum, you name it, but one of the most important places he had known and been to was Palaven. Deius and his father only had been on Palaven once, unlike his other trips his father heavily forbidden access to the homeworld. Later in his youth years, at age thirteen he was surgically give a implant with a compound similar to the L3 but not much more powerful than the human L3 which should only be given to a specific group not mentioned yet. Deius won't know these lies within the river, these secrets that can't be kept anymore will show prevail later in his lifetime.

[Prevalence, drain the river.]

Age seventeen, year 2166 one had said "
The older I grow the more I distrust the familiar doctrine that age brings wisdom."
, this quote will bring the ashes out of the grave when it comes to Deius as he is gaining more knowledge then before and distrust of the time he has learned the truth. His father being unworthy to tell the truth, Deius had to find out what happened between his mother and his family, this only let him to documents of a special force operation called Cabal. That's not what kept his attention though, it was a news article of a breach in a trip to Sheol planets of Element Zero from a star going into supernova stretching it's energy between four of the plantes that impacted a passenger ship, and the list of guests and members had included his mother and father year 2148 of December, Deius only being a fetus at the time. Deius then found out of the "eezo's" capabilities learning that the system of the element zero had entered him, now learning that this "eezo" has concentrated into him. He had wanted to learn these biotic could simply lead to which led right back to his mother being a part of the Cabal, the implant he was given at thirteen was linked to what the Cabal had used and Deius would put the pieces back together, now assuming that his father Camrius had this surgical implant to be mandatory possibly sending him off somewhere, prevalence was his key. Deius then went back to his father after his research, going off on him for not telling him these things and always keeping a secret, making him stay away from other turians so he wouldn't have a background with anyone else and hiding his mother from him. His father only replied with a simple answer, "You're going to join the Cabals, that was the contract and that's what is going to happen." one trait he will take from his father is sticking by his words because the next year he would be contracted into the Cabals due to his biotic stability and priorites, thinking he would get to meet his mother again but if there is one truth that he will uncover that his father was right. Gramia Epidiscus was killed in a general explosion, due to a drop of shipment going wrong and this only crushed him more.

[Discipline, all on board.]

Through the next nineteen years of his life he will remain a Cabal, with harsh training and most importantly the learning of his biotics. On the planet Palaven, he would take on the harshest of most trainings, the fellow turians would injury him to he had been broken, but with all the strength they had Deius's will power, his beliefs are far powerful than what they put out. He would soon learn the basics of a Cabal Vanguard's standard abilities, given the equipment he needed such as Venom Gauntlets ¹. Then learned how to access his biotic powers which would take a few years as well, attempting to use it on one target practice with a large scratch on it's chest, which for some reason gave Deius rage and more agitation to complete the work. As if the target dummy was taunting him, he kept trying and trying until eventually one day he had discovered a power he had, a turquoise barrier would grow from Deius as it slashed anything in it's path with biotic damage, the target dummy would slowly disintegrate from the poisonous toxic for a five second duration, the power he learned was Poison Strike ². From there, he would learn one more power as the fellow turians who were giving a hard time by injuring him in training one of them being a female named Florobia Macritus who had remind him of the target dummy. Florobia had always taunted him telling him that he couldn't be a Cabal and he will never be a as good as his mother and there is nothing he could do about it, he seen her as the moral compass of antagonists to help him grow one day from that, and out of spite on day he'd glow a bit blue as atavistic muscle structure would artificially toughen up from the biotics. They physical damage he had been feeling would drop suddenly, as the biotics would absorb fifteen percent of the damage then moving a bit faster as his legs would grow in endurance and speed; his power would be known as Biotic Focus ³ . These training helped build him in his physical and moral standards from discipline, but would late change his outlook drastically.

[Reaper, valiant skull.]

In the essence of all well, these good things that Deius would love are soon going to end because of a new war sparking a outrage in him in under five months. The Reaper war, had started September of 2186 Deius is thirty-seven and the operations would keep coming as if the reapers would not stop attacking Palaven. The fellow Cabals would continue to help fight along aside with him, as the waves wouldn't stop, attempting to drive them all out and what most of Deius can see is his fellow turians dying. Even through the victories in most of the battle, as he would cheer after winning and lose himself at night thinking of the friends he had made and lost. The most memorable battle was his last, as him, two of his fellow turians and a helpless turian child ran across a field in retreat. Before this battle he was told he lost his father in a attack at Digeris, which the inner renegade in him burned, pouring out the seams of morale. There was a small ship with a dead pilot inside it, only for one person though the turian being Florobia who he had a strong hate for wanted her and the child to leave the planet the other turian agreed. Deius didn't like this idea one bit, he told her no and that they should keep running until they found another group of turians, she went at him calling him useless and all the things from the training, taunting him, angering him, he took it a step far and fired a shot into her with his sidearm. The other turian attempted to retaliate after the death of Florobia but would only get killed by Deius second shot, the child now scared Deius would tell him "I'm sorry." and the child looked up to him with fear in his eyes before another bullet would fire killing the child. He'd get on the ship with his no expeirence in flying he would just attempt to remember what Tevius Helrius did and go on from there, as the ship would almost fail to even get out of the planet this event happened in Decemeber of 2186. The next month he would be considered an deserter to the Cabals, as he hid in his home planet Digeris then attempted to look for a mercenary to assign himself too, he came across many but had his eye on the Lexington. From there, he would sign himself up to the recruit to the crew in a friendly long message telling himself personally even though they would usually just look for their combat information.
Relations with crew and other factions:
Affectionate:
-Tiberius: He is what I need, he taught me what love really meant especially in the most "enjoyable" way. *3/06*
Helpful:
-Caelea: I don't remember much of what we said after the chip incident, but I'm going to try to help regain our understandings *3/02* We switched memories and such, you saved me from evil and dark things I thank you so much for that. *3/03*

-Alexi: Would straight up tell you her honesty and keep the secrets you tell her.

Friendly:
-Audiles: Kind of the only turian I like on the ship so far, he is comedic and accepts myself amd cares
. *3/01*

-Cal: A awkward cute quarian trying to make his way.

-Charlie: He hides stuff that I don't care about, but he is so nice and fragile! I don't know what happened before the chip but I trust myself that you weren't hurt. *3/02*

-Alex: Best chef on the ship.

-Sloan: I look through his jokes, he is funny as well I don't like him as much as turian.

Neutral:
-Svein: He looks pretty toughened up, I don't have much but that..

Disliked:
Hated:
Last edited: