Joined

Sep 19, 2021
Messages

29
Points

1
Once again I am posting my appeal here as I am banned from the discord and there is nothing on the forums to suggest how to appeal for that kind of ban.
Name: marsh
Steam ID: 76561198226062868
Reason for ban: nitrp/minge + previous bans
Picture of ban: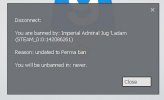 Why I should be unbanned: I feel like I do not deserve to be permanently banned from the server over such small infractions. Perhaps I do mess around too much but I do not understand what anyone is expected to do when nothing is happening other than to sit afk while waiting for an event, is it really such a problem if someone does cause a little trouble just so something can happen?
On the point of having been banned several times already one should note that most of these bans I have successfully appealed.
I genuinely enjoyed playing on this server and I sincerely miss being able to. I can promise I will not be as "mingy" and take roleplaying more seriously if this appeal is accepted.
Last edited: