Joined

Oct 4, 2017
Messages

10
Points

3
Age

24
>...
>...
>...
> BRIAN DOUGHTY :: "Brian Doughty" Selected.

Loading Personnel File.
Loading...
Loading...
Unit Identification Information
Unit Identification Image:
<::

WARNING: No images of requested unit is on unit's Omnitool.

::>
<:: SEARCHING EXTRANET WITH TAGS: "Brian" "Brian Doughty" "Joker" "Doughty" "Donut" "Dotty" "Miami Vice" ::>
<:: Searching... ::>
<:: 1 RESULT FOUND ::>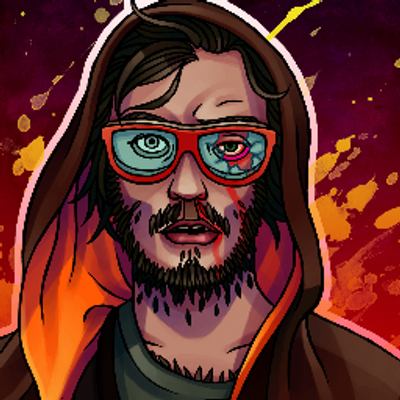 <:: ARTIST'S NOTE ::>
<:: "This commission was requested by a personal friend of mine, here at Citadel University. He wanted a picture that symbolized the pain of the migraines of a human biotic with L2 implants. It was fun drawing Brian!" ::>

// OOC DISCLAIMER: I didn't get this commissioned, for those who don't understand IC exposition. I just needed a good reference of Beard for Brian \\

Unit Name:

Brian Doughty

Unit Aliases:

Miami Vice (Current)

Joker

Dotty

Donut

Beanie Boy

Unit Gender:

Male

Unit Species:

Human

Unit Ranking:

Serviceman Class Three

Physical Appearance:

Unit Appears to have a lanky, athletic build; commonly displayed by the likes of human Olympic runners. Unit does not appear to display the same physical strength as most other Units on board the Lexington, but their performance in agility, among other things, should make up for this. One of the more younger units on board, this unit appears to be somewhere between his late teens and early twenties in appearance. It is difficult to pin down unit's actual age based on appearance, as he appears to be stressed out, tired, and constantly in pain. This could be caused by the unstable L2 Biotic implant embedded into the base of his skull, hidden out of sight by both his long hair and his black beanie. Unit's hair is a chocolate-brown color, straight and extending down to his jawline. It does not appear to be combed often, as several strands stick out along his scalp. Unit's eyes are also a sky-blue color, hidden behind a pair of transitional prescription glasses with a blue frame. Unit does not wish to shave often, as he currently sports a "Five O'Clock Shadow" along his chin and jawline.

Note:

Unit also appears to double in size when wearing his current, requisitioned armor. Armor does not appear to fit the shape of unit, and it has been noted that he complains about it being "baggy," and "too fucking big for my little ass." It is advisable to requisition an armor variant with the right measurements for this unit, otherwise he may be hindered in effectiveness on the field.

Unit Vocals:

___________________________

Personnel General Information

Unit training:

N/A

<::

ALERT: User has no previous military training. Unit's capabilities may be hindered on assignment.

::> Unit Assignment:

The Lexington

Operational Status:

Active

Unit Casualty Status:

Alive

Previous Post:

N/A

Unit MOS:

Combat Lifesaver

Unit Theme:



___________________________

Unit Faction Relationships

Faction Allegiance:



Listed Liked Factions:


System's Alliance

"Keep fighting the good fight out there, guys. Got some friends in both the Marines and the Navy, plus I guess I have a little bit of Patriotism for where I'm from. Had I known I was gonna get tossed into the fire, maybe I would've joined up with Brayton when he did. I wonder if we would still be in the Alliance Military if I did..."

Turian Hierarchy

"Really, I don't hate you guys like about half of my species does. My mother doesn't either, I know that much. I actually like you birds. You guys have a fucking

awesome

military that could potentially kick the ass of everyone else's-- hell, throw a few of your cabals at the Asari commandos and see who comes out on top. Man-- that'd be a fight I'd watch. I need to head to the Armax Arena again one day-- if I ever get the chance to...

Why are Turian females so cute? Why are they all so fucking tall here?!

"

Citadel Council

"Bureaucratic at best, but-- not evil in that sense. Most laws are common sense and some things are restricted

within reason

. It kinda reminds me of like-- The System's Alliance in a sense, back when it was just the United Nations. Only difference now is the people on the board not being just human... And kinda hating us because our first Spectre didn't save the previous Council members. Really-- if you're gonna make a small little task group that's above all your laws and restrictions, why not set a few ground rules for them too? Like-- I dunno, maybe

protect the Council at all cost?

So much for it being an

ends justify the means

type of club. Never been a true fan, but eh-- the government is alright."

Quarian Migrant Fleet

"...

Quarians are cute, okay?

Err-- I dunno much about them other than what I've read online. Martial Law for over three hundred years, decaying ships just as old that they maintain

by the hour

-- Jesus, they really have the shit-end of the stick. Then again, they made the Geth to begin with, but you would think-- after three hundred years, is it time for people to stop refusing and blaming the new generations for that? They live as long as we do, and most of them that I have met personally? They're

extremely

nice people. Part of me believes that it's because they can't afford to be assholes, but-- apparently they have the

thieving vagabond

stereotype plastered onto their name. I wouldn't know too much-- I just pay attention to the hips, heh."

Asari Republic

"I dunno much about what the Asari are up to, because frankly-- I couldn't give less of a shit about them, honestly. Then again-- they are the ones who created the Citadel Council, instead of keeping the Citadel to themselves and attempting to enslave everything they can meld with. They're cool, but I still think they have a parasitic goal to stay the dominant species-- keep fucking every other species until each generation dies off. All that would be left if everyone goes after the tiny blue wastes would be-- tiny blue waists. I guess they're not being assholes about galactic domination. Then again-- they have to put that plan on hold until the Reapers are dealt with-- if they can be dealt with.

I still don't fucking understand how they can do half the shit they do. Seriously, what sort of space magic voodoo bullshit did they come across?

"

Salarian Union

"I dunno shit about the Salarians, other than their government is similar to that of medieval times-- whatever that means. All I know is that they talk fast, their decisions are

absolute

, and they make great scientists. They don't even live that long, though-- forty-five years is too fucking short for a lifespan. Shame that can't make it to their child's eleventh birthday...

Heh.

"

Listed Neutral Factions:




Batarian Hegemony

"I dunno what to think about you guys. You're an official body of government, but at the same time you're filled with assholes who just want to watch humans burn. You guys hate us because we took colonies that you tried again and again to claim officially as your own through the Council-- and I don't blame you. Still,

funding mercenaries and pirates to openly attack us a few years back?

Low blow, four-eyes. C'mon."

Geth Network

"Errr... I mean-- they were once hostile, then they weren't. Apparently-- they had been reprogrammed to not only fight their battles initially, but even fight

themselves

-- if I heard correctly,

APPARENTLY

they had split into two factions when the Reapers showed up. Regular Geth and--

Heretics?

Did I get that right? Heretics were the ones who invaded the Citadel a year before I came onto the station, and now--... Fuck, I'm not sure. They apparently allied with the Quarians and gave them their homeworld back at some point. That's cool, but I'm not sure what to think of them...

And I'm fucking SURPRISED they're even allowed on this vessel.

I swear, if one of them starts singing Daisy Bell,

I'm done

."


Listed Disliked Factions:
New Eden/Luna Corporation

"This crew I'm in is a mixed bag. On one hand, I got my best friend and I'm making some that are decent people. On the other hand, it has it's assholes and absolute

INCOMPETENT

bumble-fucks that don't know what to do other than point and shoot at nothing. We changed recently to this Luna Corporation bullshit, but apparently Turians, Salarians, and anything else that isn't a Human or

Quarian of all things

cannot speak to the brass of Luna Corp after some Turian acted like a complete bitch. How is that not racist? Even Alexi said that they could be Human Extremest or something. Yeah-- with a fucking Quarian fetish too, and even I have one.

How is that not Racist?

And for fuck sakes-- why do people insult one-another based on

political viewpoints

? I thought these guys were mercs, not a ship of middle schoolers.

Christ.

At least Brayton and Ana's here... They're sane, that's for sure."

Blue Suns

"Well, you guys are the reason I have biotics, from what my mother told me. Y'know-- I

COULD

thank you for that, but at the same time? This L2 implant has been giving me headaches and people have been picking on me since. You may be the most

lawful

-- I use that word loosely, by the way, but at the same time you're only in it for the money, just like everyone else. I know I shouldn't say much, but at the same time--

I didn't choose to be here

... Okay technically I had a choice, but it was either join New Eden, or Luna Corp-- whatever the name is, or get fucking murdered on Noveria. Fuck both of those options, honestly."

Blood Pack

"A lotta Krogan and Vorcha with a bigger death wish than New Luna. Essentially-- they're the big baddies with big, unorthodox weapons that want to either headbutt you or cook you like an overheated heat sink. Not really a big fan of people who call themselves after their Blood Rage."




Hostile Factions:




Eclipse Sisters

"Fuck those fucking edgy-ass yellow lesbians! I'd say they can go suck a dick, but they're already sucking each other off! If they're not fucking horny, they're angry! Angry over fucking

nothing

! I hope you fucking suffocate on each other's whole asses! New Eden-- or Luna Corp--

FUCK

-- we need to get rid of them as a business associate! I'll fuckin'--"

Muffled screaming is heard in the distance from another person, sounding like Brayton. It almost sounded like he told him to calm down.

"...I need some Advil."

Reapers

"Well, I mean-- I'm sure everyone else hates them just as strongly, but--... Eh, might as well put my fucking opinion down. Because of these space cuttlefish, I'm not sure how my mother, father, or Miami are doing right now back on Earth. I know I've lost a few friends in the Alliance too-- that one is obvious. Everyone has lost someone or something to the Reapers, that shit isn't exclusive. They're terrifying to think about, and apparently they can use some space voodoo to convert people to their side-- and that fucking

scares

me. I don't wanna die this young... Then again, I think the tide is turning for all of us right now. I dunno."

Unit Personnel Relationships

Affectionate

Alexis Doughty


"

God, I hope you're still alive, mom... Let it be old age or cancer that kills you, not fucking Reapers. You'd be disappointed in me now, but--

I've always made bad life decisions

. Here's to hoping you may be kicking some ass like I am, though."

Jacob Doughty

"I know we had some trouble in the past, but--... Just make sure you're still breathing if we win. I don't want you to die, old man.

Don't fucking die.

"

Extremely Liked

William Karl Brayton

"Holy shit, I can't believe he's here...

But why, though

? What happened in the Alliance for you to suddenly join with

these

bumble-fucks? What happened in a past life that had punished your ass by joining these shit-lords? I guess it's

kinda okay--

I mean that's a stretch if I ever made one, but hey, at least I have a friend from College. My first fucking roommate, that is. Nice."

Anatasia Baranovskaya

"I mean-- I'd

probably

follow her to Hell and back. Probably... She's one of the only few people that I like, and apparently she had join just months before I did. Like seriously-- I fucking served her a shot of vodka on Noveria, and the Ruski took that shit like a

champ

. Good to see the Russians haven't lost their drinking abilities. Glad to see her on the ship, and as an officer. The only competent one here right now, I think."

Neera Rakavis

"Okay, how many more people from my life are gonna come here to haunt me? I've only seen this lady for like what-- a week once? She was an officer in the Turian Hierarchy at the time, and busted me out of a situation with one of her subordinates. I'm not gonna use biotics to get myself outta everything. Still, the fact that she's been here and on Omega instead of with the military... Eh, whatever. It's good to see her again, that's for sure."

Suu'Ci nar Mavantris

"...

Where do I even start?

Okay-- this chick is pretty

RAD--

Okay now I wanna shoot myself for saying that... No. But really-- A vaping Quarian goth chick who rides a skateboard wherever she goes. How can anyone

NOT

like that? The poncho is pretty cool too, but-- it's weird to see a Quarian wearing one. Oh well-- she's fucking awesome. And part of medical as an added bonus."

Gunko Artorius

"Small Turian, big heart.

Doesn't deserve to be here at fucking all.

Keep your spunk, kid-- wait we're the same age... Also

hoLY FUCK I AM TALLER THAN A TURIAN."

Liked

Damien McCarthy

"This one is probably a surprise to a lot of people, but-- I really don't hate the guy. Damien can be--... A

little

rough around the edges sometimes, but his heart is in the-- is right place the right term? It

is

a mercenary ship. Still-- he's a pretty loyal fellow to the crew, and I can respect that. He's just gonna be kept locked outta the medicine cabinet because

FUCK--

I am not dealing with another morphine incident."

Weyrloc Iron

"Okay--

holy fuck he is tall...

I didn't realize Krogan could get that tall, but-- he, and a lotta fucking Turians have proven me wrong. He's always eager to charge head-first into battle and use that--

what gun does he have again?

Er-- either way, glad he's on our side...

And thank God for his regenerative health.

"

'Athena'

"So the Geth are working for the crew..? That's-- fucking surprising. You'd think they'd be busy helping the Quarians back on Rannoch, but shit-- this one Geth Prime unit decided their best course of action is to work with us... Well-- good luck not getting caught in a friendly fire accident. Er-- I'm not gonna pull the trigger, but I feel as if someone would."

Donny Barnaby Jones

"So this guy-- I remember him from my first mission. He helped me with that one big bastard who got a piece of rebar stuck in his leg. One of the only few people I know who has a surgeon's license, and will probably be the only bastard I trust if I have to go under. Please stick around, man. I can probably learn a thing or two from you."

Sloan Harkan

"So this guy hooked up with Ana? Nice."

Neutral

N/A

Disliked

N/A

Hated Kelly LaCroix

"

Fuck. This. Bitch.

Seriously, you're gonna order me to do a bunch of things that will get my ass injured, or get me stranded at places I don't even

WANT

to be at, then you deserve to have your orders ignored. I fucking

told you

that grenade was gonna explode if you give the girl a magnet. I'm not EOD, but I think I've seen enough of Brayton's shit to know how things are gonna pan out.

And there is no way in hell you're gonna make me step out on Omega

. Seriously,

'oh walk twenty feet out there, Brian.'

Yeah no-- I'm not gonna do that. Espeically when you make it sound like you were gonna

leave me there to die.

I don't trust a lotta people, but I don't trust you the most.

Fuckin' cunt.

"

Feared

N/A

"Want to be added? Get yourself noticed."

_______________________________

Unit History

To understand how Brian got his abilities, one must first look towards his mother for the reason behind it. As one of the enlisted engineers on board the SSV Hastings, Alexis Peterson had served the Alliance Navy from 2163 to late 2166. During an engagement with a Blue Suns frigate over the planet Sidon, the SSV Hastings suffered almost no damage during the entire battle. This all changed however when the last shot fired from the opposing frigate hit one of the engines, rupturing a fuel line that was connected straight to the core. Fortunately, the ship didn't explode, unlike it's Blue Suns counterpart, but Alexis was caught in the engineering bay when eezo began to leak into it.


As she was stuck in there with two other engineers, they all agreed on at least attempting to stop the leak before other engineers could take over and repair the systems. In a matter of one and a half minutes, they were able to successfully end the eezo leakage before both security personnel and other engineers in hazmat suits came in to repair the damage fully and haul the three into the medical bay. After a month of constant monitoring from the medical staff, Alexis' health fortunately never changed; she did have traces of eezo inside of her, but it neither latched to her nervous system as a nodule or developed into cancerous tumors. Jasmine Sanchez, Alexis' friend and one of the other two engineers, was fine too. Unfortunately for Winslow Cunningham, tumors had developed into his brain directly. His situation was terminal and he had only four months to live afterwards. Cunningham was medically discharged while Sanchez resigned on her own accord.


Alexis saw this as a sign and left the military in early 2166 herself, moving to Miami in order to attend college. During her college years, she met a man by the name of Jacob Doughty who was attending the same college. The two started talking, then dating, then they got married in June. Nine months later, on March 13th 2167, Brian Doughty was born into the world with two strange medical conditions. He had a literal hole in his heart, as well as a blocked coronary artery that was fixed with open heart surgery at the age of five months. The other condition he had? He was born with eezo nodules attached to his nervous system; Brian was confirmed to be a biotic human.


Of course, it was a good thing that he was born on the year of 2167. This was the same year that L2 biotic implants started getting implemented into biotic humans. Since one didn't have to wait until after puberty to be implanted, Brian got his biotic implant at the age of 3, a few months after his parents had graduated from college and landed jobs with a decent income. Despite the fact that he had the equivalent of telepathic superpowers, Brian wasn't exactly the most popular kid at school; he was bullied by the other children for multiple reasons, one of them being because he was a biotic. If that wasn't bad, the additional headaches and migraines he had to deal with as a kid didn't help his situation at all either. Brian came home at least once a week or two crying either about painful headaches or the same person giving him a hard time for the first few years of his school career. Of course, most of this died down by the time he had reached middle school. Not only did most people stop caring, but there was a false rumor running around that biotics could read minds. Brian used that rumor to his advantage and threatened to tell a bully's crush that they thought dirty thoughts about them if they didn't stop (it was middle school, so insults weren't as thought out for a child).


When Brian finally reached high school, no one really cared anymore about him being a biotic. That didn't stop him from being paranoid about the people who tormented him, wondering if they were speaking of him behind his back (although they really weren't). He had developed a bit of anxiety thanks to previous encounters in elementary school and usually had a hard time both speaking and looking someone in the eyes. The implants only made his life more of a living hell, thanks to the headaches; he had to get a bottle of advil signed off by the school clinic so he had something to suppress the pain with. Of course, his life wasn't all that bad. He had his own little group of friends he amassed in middle school and he used his biotic abilities to perform 'party tricks' (Brian never was one for parties, but he and his friends usually hung out together in one place). Besides his anxiety and the headaches stirred up by his L2 implants, Brian's high school career and late childhood was relatively alright.


In tenth grade, a month after Brian turned sixteen, he was approached at his home by a representative of the Jon Grissom Academy. The representative offered Brian a spot in the school's Ascension Project to "help him get better acquainted with today's society." His mother initially declined the offer for him, seeing as most biotics who joined the Ascension Project usually enlist into the Alliance Military; she didn't want Brian to join the military. Brian did show a little bit of interest in the Academy, however he didn't accept the offer himself. The representative did leave the offer open for the kid after the meeting, but Brian would never jump onto it due to his mother's wishes. Instead, this did open up the conversation with his parents about not only college, but what he wanted to do for the rest of his life.


As a child, Brian always had a small interest in medicine. His life had been dictated by it (from the two surgeries he had at an early age and the pills he took throughout it), and he always ended up playing the medic class in any class-based military shooter. He didn't know what else to do by the time he finished high school, so he decided that his best career choice was to become a doctor. As much as he didn't want to go through another six-to-eight years of schooling, he couldn't think of any alternative. His obvious first choice was the Jon Grissom Academy, but his mother shot that down on the premise of not wanting to see one of her two kids become a soldier. Not all graduates became soldiers out of that school, but a decent majority enlisted into the Alliance; a group that Alexis didn't want Brian to be part of. He instead searched for other schools that were local to Earth, but none of them truly got his attention. The one school that did catch his attention was a college that wasn't on Earth, or any of the Alliance colonies. The one that caught his attention was Citadel University, located on the Citadel itself (no shit).


He showed his parents this university and told them about it not only having a prestigious medical course, but other races attending said University. Growing up in one of the three biggest port cities on Earth, Brian got to watch a lot of ships of different designs docked in and flew out of the Miami spaceport. He used to notice Turians and Asari walking to and fro different areas, but now he could attend college with them, and even with the ever-so-smart Salarians he heard about as a kid. Of course, his parents were hesitant about the idea at first, seeing as he would be a rather large amount of light years away from Earth instead of a few hours away at Miami University. It took some convincing before they finally agreed on his proposal and before long, Brian found himself on a one-way ticket to the Citadel with an accepted application into Citadel University.


In late 2185, Brian got himself situated into the University's dorms and began attending basic classes he needed as prerequisites. His roommate at the time was a man by the name of William Brayton, a human who had a few years over Brian in both age and attendance at the college. Brian was thankful that these dorms had separate bedrooms for both residents, because he couldn't stand the smell of weed every time Brayton hotboxed his own bedroom. Other than the hotboxing, the two got along rather well. Brayton assisted Brian in buying his first omnitool after calling him "fucking useless," and the two usually either played video games or GURPS together. On that note, Brian actually got along rather well with a lot of people; it was a new setting with new faces that didn't judge him for the implants he had in his skull. Of course there were times that he could get easily upset over the littlest of things, but that was usually because there was already a migraine building his irritation up. His new friends thankfully understood this, save for one Turian who had a biased resentment towards humans.


Ironically enough, late 2185 and the first half of 2186 were considered the best and worst times of his life. He had new friends that weren't just humans, he lived in the biggest space station on this side of the Galaxy, and he was working for his future career. At the same time, some of the classes Brian wanted to take after the prerequisites were unavailable to him because of the Geth invasion that happened two years prior. On the same note, some of the residents and locals of the Citadel looked at Brian with slight resentment because of their stance on humanity; Shepard didn't save the Destiny Ascension two years prior and the entire Citadel Council perished in the destruction. Brian mainly avoided confrontations whenever he could, but he couldn't avoid all of them. He mainly stuck with his friends whenever he could, but it got harder for him to do so after Brayton had suddenly left Citadel University to join the Alliance at the beginning of 2186. Things only got worse for Brian once when the unthinkable happened in September…


Brian didn't pay much attention to the news, but what he did pick up from the Extranet was a lot of Shepard drama; Shepard becoming a spectre, Shepard warning the Council of the Reaper threat, the Council dismissing Shepard's claim, their deaths, Shepard's apparent resurrection, working for Cerberus, etc etc… He liked the fact that humanity had a spectre, but at the same time, said Spectre made a lot of ridiculous claims. He didn't pay attention until what everyone thought was a myth suddenly showed up and attacked almost everywhere within a single month. When Brian heard that the Reapers invaded Earth and killed Shepard, he had a bit of a mental breakdown. It wasn't because Shepard was right, or that Shepard died, but it was because Earth got hit hard in the initial invasion and his family lived in a densely-populated area; he wasn't sure if his parents were still alive or not. Even though Citadel University closed its classes due to the invasion, Brian fully dropped out of the university all-together and did the "next best thing."


With the money he had amassed from working as a bartender in the Kithoi Ward (that he didn't spend on food, rent, or video games), Brian paid for a one-way ticket to--... Anywhere, really; he wanted to travel the entire galaxy. He spent most of his credits getting off the station and he landed on a colony that he had no preparation for: the arctic wasteland of Noveria. Maybe next time he should see where he's going before he lands up in a frozen wasteland occupied by corporate executives with colder hearts. He would've been willing to do odd jobs for these people as a desperate attempt to get money and travel the galaxy before his untimely demise, but without a gun and no armor, he once again found himself behind the counter of a bar. Instead of looking for friends through the common business associate that wanted to potentially rip him off harder than a Volus merchant (he never bought a skycar on the Citadel for this specific reason), he decided to keep to himself and serve drinks, only smiling and nodding when he needed to. To his pleasant (and unfortunate) surprise, someone else instead approached him.


A middle-aged woman in a rather fit condition for her age sparked up a conversation with him a month and a half into his employment as a bartender. She introduced herself as Jasmine Sanchez and explained how she was one of the engineers that served on the same ship with his mother. Brian wondered why the name didn't sound familiar if it was a friend of his mother's, but he didn't care too much; someone was finally talking to him. Jasmine mentioned that she was here on a business trip for an association that he may be interested in. Since he was a biotic with L2 implants and his mother served in the Alliance Navy, she could vouch for him. Brian saw his only ticket off this frozen, heartless wasteland right in front of him, and this time his biotics came into handy for something else other than a party trick. He was still rather hesitant about it, but she told him to think it over before he makes a decision. She gave him an address to her place and a time to arrive; 2100 hours, an hour after his shift tomorrow. Brian was left with a major decision and a hundred credit tip; something he knew was supposed to be encouragement. He had literally nothing better to do at the time but freeze to death in a bar, so he met with her the next night.


Brian wasn't expecting the next encounter with her to be… rather unsettling. The door to the place was unlocked, and when he stepped in, the room was dimly-lit and almost vacant. He almost didn't notice Jasmine sitting on one of the sofas in the main room by herself, nothing to occupy her but two glasses of wine, a folder, and an M3 Predator all on the coffee table. She picked up the file and summarized all the points on it as he sat down; how he was born in Miami, implanted with L2 biotic implants at the age of three, named all the schools that he attended, including Citadel University, was the roommate of and befriended William Karl Brayton, had a mental breakdown two months prior and unintentionally paid his way to the worse part of the galaxy to become a bartender at. Brian was already uncomfortable enough when she stated that he "had a habit of making terrible life decisions." It wasn't why she was there, though; she truly wanted to offer him a job. Brian obviously didn't know what to make of this woman in front of him (or if she even was his mother's friend), but she had the only ticket off of this frozen rock. She also had a gun, if the first reason wasn't motivation enough.


Jasmine finally got off the topic of him and then got on about her organization. She explained that she works for a privately-funded organization named the "New Eden Corporation" and that working for them would be his best bet for travelling around the galaxy. When Brian asked about what they do, she dodged the question by saying he would be perfect for the job; he was a biotic, his mother probably taught him how to shoot a weapon (although she truly didn't, his father did), and the first aid and xenobiology classes he took in Citadel University would help him out if he became a combat medic. This only brought more questions for and even more hesitation to accept the offer, but when he asked again, Jasmine finally spoke. It was a private military company that did more than what any traditional military would do, but they were a bit short-staffed on medical personnel at the current moment. They needed more people who had surgical licenses (that didn't buy them off the extranet like some turian did), but at the same time they needed regular people with adequate knowledge on first aid, medigel, and the anatomy of different races employed to New Eden. Brian said that he nor his possibly-deceased mother wanted him to join the military, which she replied with a groan and elaborated that he wouldn't be truly part of the frontlines. He would only have to be deployed to heal, and potentially never have to fire a single round.


"Besides, you don't want Noveria to be your permanent home, right?"


That question alone got Brian to thinking. He can either roll with a crew that would willingly protect, or get screwed at every corner by a posse of corporate executives that'll get angry over every little thing. He could die somewhere loud and exciting, or die in a cold, depressing executive colony. Essentially, like the shitty old human movies he used to watch with Brayton, he could live free or die hard. Plus she also had a gun so he had no real choice. He accepted her proposal and she handed him one of the glasses of wine. Despite not only attending a University, but also working as a Bartender in two different places, Brian never actually drank any alcohol in his life. There was a bit of hesitation after they had toasted to a new beginning for him, but he ended up taking a sip. As he tried to stand up moments later, something hit him harder than a Kowloon-Class Freighter in FTL and he collapsed on the floor, losing consciousness shortly after.


Brian couldn't remember the next few weeks of his life; it was all a haze. Someone or something kept him sedated during-- whatever was happening to him. All that he could remember were feminine voices and a very distinct tint of yellow that one specific mercenary organization uses. He knew who they were, but he didn't know what they were doing, if they were doing anything to him at all. The idea of being close to any crafty, edgy lesbian with a shotgun was terrifying to Brian, and now they had him strapped to a table at their mercy. He never liked the Eclipse Sisters; in fact he hated them the most out of all three mercenary bands (despite the Blue Suns technically being the reason for his biotic abilities). This hazy dream sequence of them speaking in different languages and him not knowing what the fuck was going on only reinforced this hatred, and even gave him essentially an irrational fear of this specific band. Before he knew it, he woke up on the sandy beaches of a tropical island. Next to him was a random, folded Mattock and a datapad with only two/three lines of text written on it:


"Thought you could use some protection, because you're gonna burn your implant fast if you get swarmed by husks. I would say your mother would be proud, but she really wouldn't be. Here's hoping she's still alive."


That's the last time he takes an alcoholic beverage from a middle-aged woman.


Whatever planet he was on, he didn't know; what he did know what a certain Philadelphian accent calling out to him, botching his last name; William Brayton was surprisingly there on the island, and so was a rather diverse set of individuals from different species and backgrounds. Before Brian could truly react, Brayton stuffed a blunt straight into his mouth and lit it for him. Normally, Brian would've swatted that shit away, but Brian had already fucked himself up more times than he could count. He just said "fuck it" and took a hit, and roamed the island with Brayton and an unknown accomplice that was one of his friends; after all, why not do something stupid when the whole galaxy is gonna die? Brayton supplied Brian with a radio and tuned him into the right frequency and the two had a blast; they went out to sea on a tiny little row boat, broke said rowboat after Brian accidentally blew off the back half with a biotic throw (he used his own ability as a propulsion system), stared at some Quarians and befriended an invisible creature that Brian named Santiago. He wasn't able to bring the creature on board, unfortunately. This was the first time in a long time Brian had actually had legitimate fun anywhere; a mental breakdown following a massive galaxy-wide Reaper invasion would do that.


Of course, when he sobered up the next day and it was time to "return" to a ship that he had never boarded in his life, Brian got scared shitless. Brayton had to calm him down and tell him things would be alright, and that he acted enough like an idiot over the radio that people already had a vague idea of who he was as a person. It worked for a time; Brian boarded the Kodiak with a few people and he sat there quietly, not truly making eye contact with anyone as he stared out the window. But when it came to him actually hopping onto the ship, Brian disappeared. Where did he go? Not far, honestly. He hid inside of a logistics crate for a month and was never truly seen again by people. Of course one would ask how he survived in said crate, but that has a simple answer: he was in the crate filled with MRE's. He rationed himself everyday so no one would get suspicious of a few missing packs of food, and when people were either out on deployment or sleeping, he made stealth runs to the bathroom. Why no alarm went off or anyone caught him still surprises Brian to this day.


Of course, he had a reason as to why he wanted to be in the box: he didn't want to be on that ship with ruthless killers (or at least he thought they were, despite Brayton being there). He thought that the crate he hid himself in would eventually get shipped off to some other ship and taken somewhere else like-- maybe the Citadel again or even a colony that hasn't been hit by the Reapers yet (he didn't want to go back to Noveria though, fuck that). That never happened because the one crate he hid himself in was essential to keeping everyone fed and nourished. To make matters worse for him, when he actually figured this out and tried to switch out into another crate, the hatch slammed shut on his ankle and he hit the ground hard. His ankle is okay, but the alarms went off and alerted everyone to his presence once again. Fortunately for him, Brayton and Anatasia were the ones that found him stuck there, instead of the geth unit they had mentioned was coming. Hilariously enough, even though he had been introduced to the Russian Senior NCO by the business end of her Scimitar shotgun, he could've sworn he met her somewhere else. Maybe back on Noveria, when he served her vodka instead of the light beer she ordered. He didn't mention it to her because he wasn't sure what her reaction would've been to him (or if she would've actually used the shotgun to vaporize his face).


Before long, Brian found himself conscripted, donned armor that was twice his size (anything smaller and he'd be wearing female armor), and had just recently went of his first deployment on a turian colony. He got stressed out saving the life of a person with the help of an actual medical professional, irritated when his CO didn't do shit but watch, and then hid himself in the crew quarters to evaluate his life. If Jasmine was right about one thing, so far, he didn't have to use a weapon (and thank God too, he had left his Mattock in the armory on accident and even forgot a helmet for himself). Now he's willing to mingle more with the crowd and put his L2 biotic implants to good use. Hopefully when he opens up, no one's gonna look at him funny...
Last edited: