Joined

Oct 17, 2017
Messages

78
Points

18
Age

26
Location
>...
>...
>...
> MB-002
:: MB-002 AKA 'Duodecim'
Loading Personnel File.
Loading...
Loading...
Unit Identification Information.
Unit Identification Image: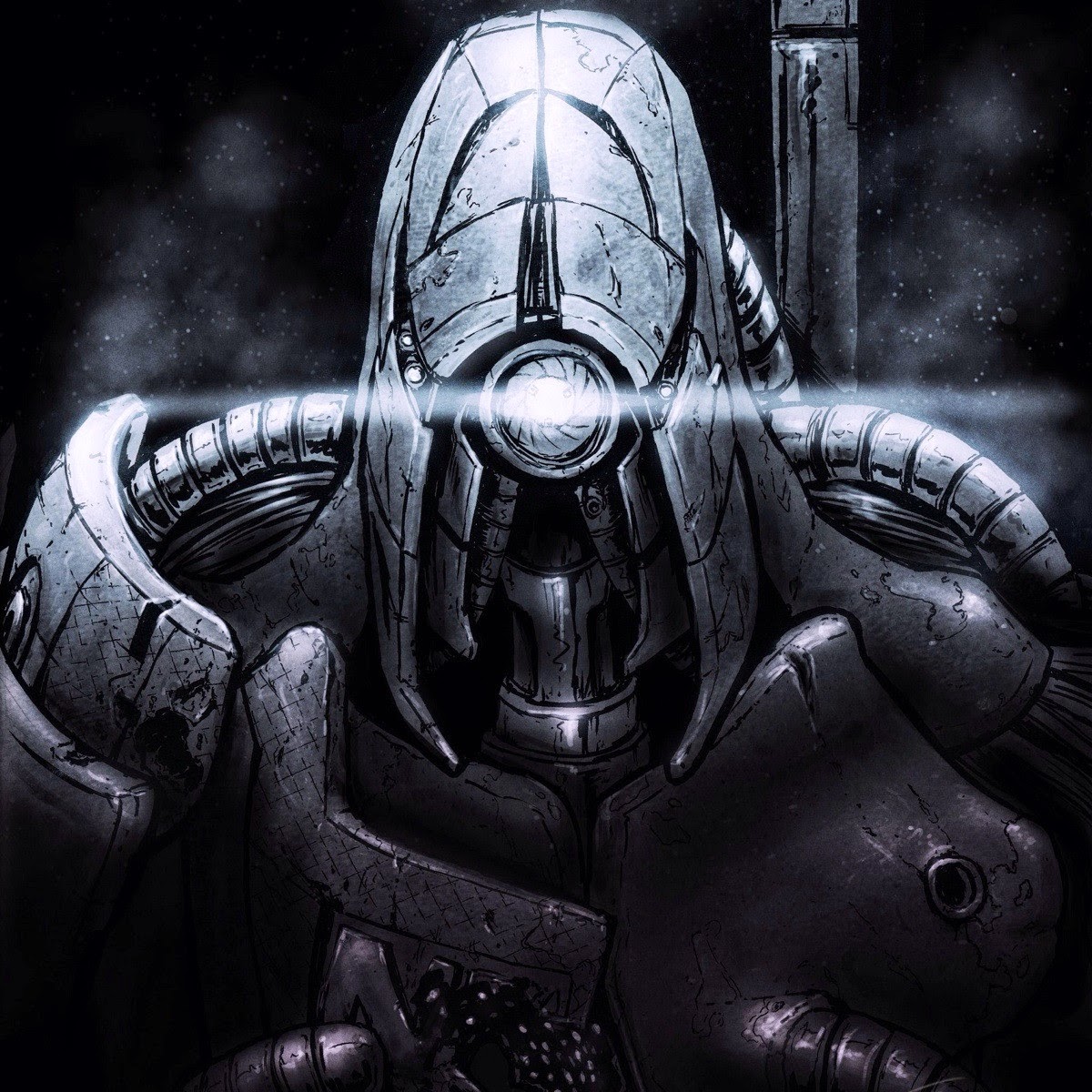 Full Name: MB-002
Pronunciation: Em-Bee - Zero Zero Two
Nickname/Alias: Duodecim, Duo or Decim to 'friends'.
Meaning: Twelve, or XII
Origin: A combonation of Duo, meaning two, and Decim, meaning ten.
Title: N/A
Pet Name:
Friendly: Dee-Dee, Friend
NOT Friendly: Scrapheap, Relic
ID Number: MB-002
Signature: 0100010100
Gender: 'Male' (Geth)
Gender Role: Geth
Real Age: 292
Age Appearance: A solid 100.
Birthday: They do not celebrate birthdays, but likely around March.
Deathday: N/A
Birthplace: Rannoch
Astrological Sign: Geth
Zodiac Sign: GETH
Immediate Family: N/A
Distant Family: Most Geth
Parenting: Servant to Quarian.
Upbringing: Servant to Quarian.
Infancy: Servant to Quarian.
Childhood: Servant to Quarian.
Adolescence: Servant to Quarian.
Adulthood: Servant to Quarian until the Geth became sentient. Fought in the Morning War, laid near dormant for a good while, then was repaired and subsequently forced off Rannoch. Fun.
Coming of Age: As soon as the Geth began to grow sentient.
Evolution: They can now process more information, have their own sentience, and make more logical choices.
Species: Geth
Ethnicity: Geth
Blood Type: White fluid
Preferred Hand: Ambidextrous
Facial Type: Round
Eye Color: Blue
Hair Color N/A
Hairstyle: N/A
Skin Tone: Black
Complexion: Glossy
Makeup: N/A
Body Type: Geth
Build: Also Geth
Height: 6'3"
Weight: 202 lbs.
Cup Size: N/A
Facial Hair: N/A
Shoe Size: They don't wear shoes?
Birthmarks/scars: Tally at the top right shoulder, small scratches upon the torso of their armor.
Distinguishing Features: (Something unique that stands out)
Health: Considering
Energy: Geth amount.
Memory: Hella.
Senses: Slightly dull. Slightly.
Allergies: Large discharges of electrical shock.
Handicaps: Moves slower due to being a near ancient model of geth.
Medication: 22ccs of awesome.
Phobias: Quarians getting close enough to touch.
Addictions: N/A
Mental Disorders: Being Geth.
Style: (The overall style your character shows, not just limited to clothing. Ex: Punk, Goth, Nerd)
Mode of Dress: Black for casual, black for serious.
Grooming: So shiny you can see yourself in that armor.
Posture: Geth like.
Gait: A bit of a slow lumber, though speedy when needed.
Coordination: About as strong as any other Geth footman; High Shields but low Health, though their aim is KILLER.
Habits and Mannerisms: (Any nervous ticks or unconscious habits your character might have. Ex: Nail biting, crosses arms, or twirls hair)
Scent: A strangely pleasant metallic smell.
Mood: Neutral
Attitude: Logical
Stability: As stable as a Geth can be.
Expressiveness: All in the open.
When Happy: There will be a very soft whirring noise coming from them.
When Depressed: They will barley talk and either polish their weapon, polish their armor, or stand in their crate.
When Angry: *BLOOD-CURDLING MACHINE NOISES*, and then they go to their crate to analyze and process what the fuck just happened.
Note: These are generalizations. Different situations will create different reactions.
Current Residence: They're on a (space) boat.
Community: In harmony, as far as they can tell.
Family: N/A
Friends: N/A
Enemies: N/A
Bosses: Pretty much everyone.
Followers: The Captain.
Heroes: N/A
Rivals: N/A
Relates to: Any Geth
Love: N/A
Wardrobe: The armor attached to them. That's it.
Equipment: (Refers to tools or weapons your character may use. [Ex: A sword for a warrior]
Accessories: A barely noticeable tally near the top right shoulder. The tally so far is twenty-four.
Trinkets: (Applies to but not limited to good luck charms, purses, watches, or any other items they carry with them almost all the time.)
Funds: Exactly 0 all around.
Home: The Prometheus: His crate he arrived in.
Neighborhood: 'They are... Interesting, to be sure.'
Transportation: WALKING.
License Plate Number: N/A
Collections: They collect- FOUND OUT IC NEEEERD.
Most valuable possession: Their Rifle
Prized Possession: A very small piece of rubble from a Geth Ruin.
Occupation: Soldier for the Prometheus.
Work Ethnic: Depends. If the job at hand makes perfect sense, super well. If there is a more logical way to do something, they'll do it that way instead.
Rank: Started from the bottom and they're still there.
MOS: ???
Income: ???
Wealth Status: Not very.
Experience: Former Frontline during the Morning War
Organizations/Affiliations: New Quarian/Geth Allegiance: Kinda Rocky.
IQ: HOLY SHIT WAY GOOD
Education: Didn't have one, but who needs one when you have 1000+ programs in your head?
School: N/A
Grade: N/A
Special Education: N/A
Social Stereotype: Geth
Degrees: N/A
Intelligence: Combat, Etiquette,
Religion: N/A
Morals: If it's not the smartest choice, it's probably wrong.
Crime Record: TECHNICALLY a war criminal. Technically.
Motivation: Survival
Priorities: Priority 1) Keep the crew safe/alive. Priority 2) Survive
Philosophy: If it's not the smartest choice, it's WRONG.
Political Party: N/A
Etiquette: A proper Geth gentleman.
Culture: They observe. HARD.
Influences: Legion: The first known platform.
Relates to: Any Geth
Traditions: N/A
Superstitions: N/A
Main Goal: To assist in the longevity of the Prometheus crew.
Minor Goals/Ambitions:
Career: Soldier aboard the Prometheus
Desires: N/A
Wishlist: A shiny new Pulse Rifle, an upgrade for their synthetic armor, and to understand what a standard meal taste like.
Accomplishments: (Did they succeed in any goals?)
Greatest Achievement: Coming aboard the Prometheus.
Biggest Failure: (Self Explanatory)
Secrets: They very secretly want to know what a 'hug' feels like.
Regrets: The Morning War
Worries: (What do they worry about?)
Best Dream: Being accepted by all races.
Worst Nightmare: Being dismantled, one piece at a time.
Best Memories: Becoming a platform.
Worst Memories: Spending 100+ years barely active underneath a perpetual ton of rubble.
Hobbies/Interests: N/A
Skills/Talents: N/A
Likes: Brayton
Dislikes: Neeva
Sense of Humor: Dad jokes.
Pet Peeves: Touching their stuff (what little they have)
Superstitions/Beliefs: N/A
Dreams/Nightmares: N/A
Quirks: Constant zooming and focusing of their photo-receptor.
Savvy: Combat
Can't understand: Sarcasm
Closet Hobby: Counting the stars.
Guilty Pleasure: Making consented contact with organic lifeforms EX: High-fives, fist bumps, hugs, optical smooches, ect.
Strengths: Absolutely nothing pressures them. They are Geth.
Flaws: Will not hesitate to tell you if you're wrong, or if there's a better way to do something, far too snarky.
Perception: Black/White point of view.
Conflicts: A new weapon/upgrade, or
Instincts: Survive
Lures: Objects from Rannoch dating before the Morning War
Soft Spot: Shiny new 'toys'. (Weapons, hardware, ect.)
Cruel Streak: Explicit and purposeful harm to the platform.
Powers/Abilities: N/A
Origin: N/A
Source: N/A
Ability: N/A
Weaknesses: Strong electrical currents. It would cause great pain and possible short them out for a moment.
Immunities: Cannot get sick, does not need to eat, cannot feel pain.
Restrictions: N/A
Alternate Forms: Their optical will turn red, and if this happens: DO NOT STAND IN FRONT OF THEM.
Extra Anatomy: N/A
Favorite Colors: Black and Yellow
Favorite Animals: Cats.
Favorite Mythological Creatures: The Chimera
Favorite Places: On the Prometheus
Favorite Landmarks: Old Geth ruins on Rannoch
Favorite Flavors: N/A
Favorite Foods: N/A
Favorite Drinks: N/A
Favorite Characters: N/A
Favorite Genre: Older novels and fictional tales
Favorite Books: 'A Tale of Two Cities', 'The Great Gatsby', 'The Outsiders'.
Favorite Movies: Disney movies
Favorite Games: N/A
Favorite Shows: N/A
Favorite Music: Classical/ Old Pop and Alternative
Favorite Bands:
Favorite Songs:
Favorite Sports: N/A
Favorite Stores: Any store with weaponry or shiny new cosmetics for their armor/head casing.
Favorite Subjects: Weaponry, Music
Favorite Numbers: 2 and any interval of 2
Favorite Websites: N/A
Favorite Words: Duodecimal, Equilibrium
Favorite Quotations: 'To be or not to be. That is the question.'
Least Favorite Colors: Pink
Least Favorite Animals: Snakes
Least Favorite Mythological Creatures:
Least Favorite Places: Omega.
Least Favorite Landmarks: The landing zone on Omega
Least Favorite Flavors: N/A
Least Favorite Foods: N/A
Least Favorite Drinks: N/A
Least Favorite Characters:
Least Favorite Genre: Fantasy
Least Favorite Books: 'The Hobbit' and any books relating to Lord of the Rings.
Least Favorite Movies: Old War Movies
Least Favorite Games: N/A
Least Favorite Shows: N/A
Least Favorite Music: Recent musics. All recent musics.
Least Favorite Bands: Any band that surfaced within the last 20 years/
Least Favorite Songs: N/A
Least Favorite Sports: N/A
Least Favorite Stores: N/A
Least Favorite Subjects: His history, The Morning War.
Least Favorite Numbers: Most odd numbers
Least Favorite Websites: N/A
Least Favorite Words: 'Scrap', 'Relic', 'Rustheap'.
Least Favorite Quotations: 'I am not a conjurer of cheap tricks.'
Languages: English, Geth
Accent: Mechanical
Speech Impediments: Occasionally, they'll have a stutter, like their lagging.
Greetings and Farewells: "Greetings." / "Farewell."
State of Mind: There are over a thousand programs in them. GUESS.
Compliment: 'We are glad you are not dead.'
Insult: "Searching for a fuck to give... We have found zero to give you. Apologies."
Expletive: *UNHOLY MECHANICAL SCREECHING*
Laughter: They don't LAUGH, but if they did it would be the most monotonous, robotic laugh there is.
Tag Line: 'We do not understand.'
Signature Quote: "We are MB-002 'Duodecim. We are pleased to make your acquaintance."
Reputation: 'Is that a Geth?'
First Impressions: 'OH SHIT THAT'S A GETH.'
Stranger Impressions: 'OH FUCK THAT'S TOTALLY A GETH.'
Friendly Impressions: 'Man, they ain't so bad.'
Enemy Impressions: 'Fuck off, scrapheap.'
Familiar Impressions: 'They're cool.'
Compliments: 'You do something with your optical? Lookin' good.'
Insults: 'You're not wanted here.'
Self-Impression: 'Are we meant to truly be here?'
_______________________________
Last edited: