Joined

Oct 1, 2017
Messages

5
Points

3
Location
> DECRYPTING DOSSIER FILE <

\____________________________________________________________________________________/


\____________________________________________________________________________________/
​
> Loading Dossier <
> Finished <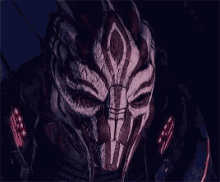 Name:
Tiberius
Victonius
Age:
Thirty two years of age
Vitality:
Alive
Status:
Inoperative
Physical Characteristics:
Height:
Seven foot
Weight:
Two hundred and seventy pounds
Race:
Turian
Eye Color:
Emerald iris hue
Glasses or contact lenses?:
Neither
Skin color:
Grey complexion
Facial markings:
White hue
Shape of Face:
Raptor-esque
Vocals: Diseases/Disorders/Disabilities:
PTSD, Insecurity, Social anxiety, Cybernetic arm that connects to his left arm, and a Cybernetic leg that connects just below his right knee.
Positions:
Current Ship:
̶T̶h̶e̶ ̶L̶e̶x̶i̶n̶g̶t̶o̶n̶
Current Faction:
̶M̶e̶r̶c̶e̶n̶a̶r̶y̶
Current Rank:
̶S̶e̶r̶v̶i̶c̶e̶m̶a̶n̶ ̶T̶h̶r̶e̶e̶
Current MOS:
̶D̶e̶s̶i̶g̶n̶a̶t̶e̶d̶ ̶M̶a̶r̶k̶s̶m̶a̶n̶
Past Faction:
Turian Military, 26th Armiger Legion
Past Position and Rank:
Master Gunnery Sergeant of Nova Squad, Ghost Infiltrator unit.
Relations:
Affectionate:
Deius
Epidiscus:
-
Audio Log 1:
"Me and Deius go all the way back to our childhood, back to basic training. I uh...had a small crush on him back then and then he found me in shambles on Omega. Just recently...something sparked between us."

-
Audio Log 2:
"We had a bit of an argument when I told him I need to go find my mother and protect her from all this chaos in the galaxy, but we both finally came to and he knew that I had to let me go and accept his pain. He said some things that...really meant a lot. He'll be in my thoughts everyday."
Best Partner:
N/A
Respected:
N/A
Liked:
Audiles Decanus:
"Deius introduced me to him when I first came aboard and he seems to be a pretty nice guy!"
Neutral:
Disliked:
N/A
Hated:
N/A
​
Last edited: